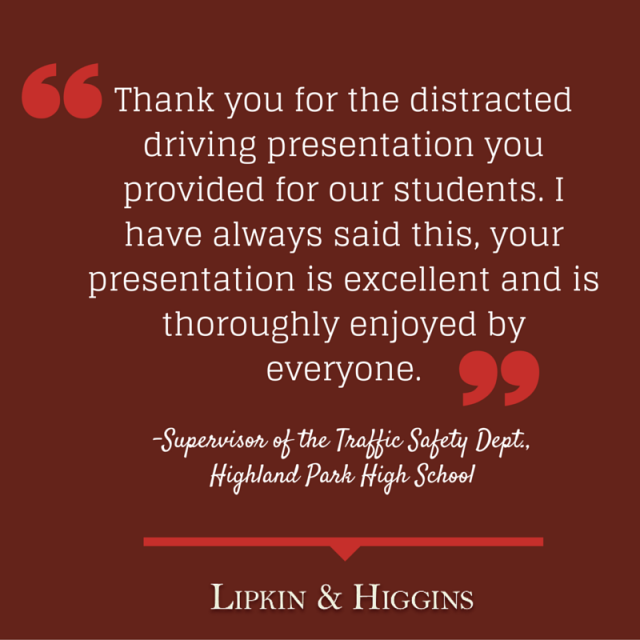 Distracted driving is any activity that could divert a person's attention away from the primary task of driving. In 2013 alone, 3,154 people were killed in motor vehicle crashes involving a distracted driver. Examples can include using a cell phone, eating or drinking, using a GPS, talking with passengers or changing the station on the radio. These are common, everyday activities, however when done while you're driving, the combination can be deadly.
So, what is the best way to prevent distracted driving from happening? The key is educating all drivers, especially young drivers, on the dangers it can create. The personal injury lawyers at Lipkin & Apter are not only passionate about advocating for individuals injured in car accidents, but we also work to educate the driving public of the risks of distracted driving.
Attorney Kevin Apter is an active speaker for the EndDD.org Foundation, an organization dedicated to educating drivers of the dangers associated with distracted driving. As a representative of EndDD.org, Kevin visits local Illinois high schools to speak with Traffic Safety students about how to stay safe on the road. Recently, Kevin spoke to students at Highland Park High School, located in north suburban Chicago, Illinois, about how they can help prevent accidents. Kevin's presentations have been well received and have become a part of the curriculum at Highland Park High School.
"Thank you for the distracted driving presentation you provided for our students. I have always said this, your presentation is excellent and is thoroughly enjoyed by everyone. We appreciate you sharing your time, talent, and expertise with us on this very important topic. We are fortunate to have had someone of your professional expertise to volunteer time from your busy schedule to address this issue. Although I strive to provide the best instructional experiences for my students, I cannot replicate the experiences and knowledge you presented to the students. I know the information you present makes a difference! Thank you again for everything!"   -Supervisor of the Traffic Safety Dept., Highland Park High School
Preventing accidents caused by distracted driving begins with you. Learn more about how you can be a part of the solution from EndDD.org.