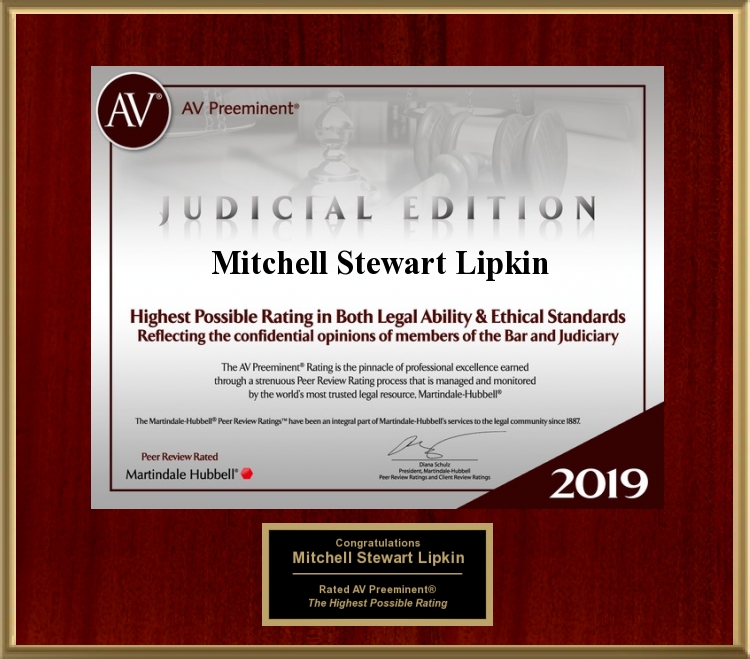 Chicago, IL August 19, 2019 - Martindale-Hubbell® has confirmed that attorney Mitchell Stewart Lipkin maintains the AV Preeminent Rating, Martindale-Hubbell's highest possible rating for both ethical standards and legal ability.
The Martindale-Hubbell® AV Preeminent® rating is the highest possible rating for an attorney for both ethical standards and legal ability. This rating represents the pinnacle of professional excellence. It is achieved only after an attorney has been reviewed and recommended by their peers - members of the bar and the judiciary. For more than 130 years, lawyers have relied on the Martindale-Hubbell AV Preeminent® rating while searching for their own expert attorneys.
Mitchell Lipkin commented on the recognition:
"The Martindale-Hubbell AV Preeminent Rating is a credential highly valued and sought after in the legal community. Once the rating was only known among attorneys who used it to qualify a lawyer when they needed to hire or refer a lawyer they did not personally know. Now, thanks to the internet, the rating is a great way for anyone - lawyers or individuals - to use to qualify a lawyer. I am thankful to my peers who nominated me for this distinction, and proud to have earned this, the highest possible Martindale-Hubbell rating."
Mitchell Lipkin is an attorney in the Law Firm of Lipkin & Apter based in Chicago, Illinois. Lipkin & Apter attorneys have amassed many millions of dollars in verdicts and settlements for their clients in a variety of personal injury cases including auto accidents, workers compensation, medical malpractice, nursing home abuse, and construction.