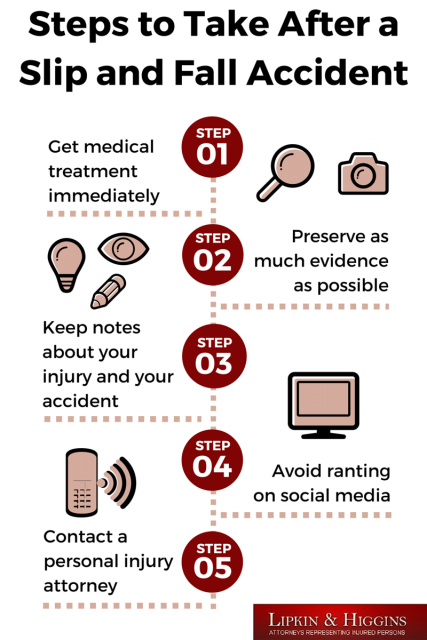 Slip and fall accidents in the state of Illinois are commonplace and can result in serious injuries. Below, the Chicago attorneys at Lipkin & Apter have compiled five steps that you should take if you've been injured in a slip and fall accident due to the negligence of another.
Get medical treatment immediately
After an accident that's resulted in injury, seeking medical attention is your top priority. We only get one body – do everything you can to protect it and to prevent an acute injury from becoming chronic.
Preserve as much evidence as possible
After you've been treated by medical professionals for your injuries, it's important to go back to where the accident took place and take pictures/video of the exact location where you fell. Showing what caused your fall is much more compelling than verbally describing the cause. Seeing is believing.
Keep notes about your injury 
Memory fades with time, even with regard to your pain, disability, treatment and impact of an injury on your life. These are the very elements of damages that determine the value of your case. What you write down you will not forget.
Avoid ranting on social media
A common mistake that we see individuals making is posting images or rants on social media immediately after an accident. Insurance companies can see this and it can have a negative effect on how your case plays out, so it's important to avoid social media at all costs after a slip and fall accident. If you need to vent or rant to someone, do it in person with a family member or close friend.
Choose your personal injury attorney wisely You are a consumer of legal services and as with choosing any professional, you should expect courtesy, experience, compassion, and honesty from your attorney. The lawyers at Lipkin & Apter excel in these categories, which is why we are respected by judges and other attorneys.